Basic Information
Description
A decreased number of circulating blood cells or insufficient hemoglobin in the cells. Anemia is a result of other disorders. For proper treatment, the cause must be found.
Signs and symptoms of Iron-deficiency anemia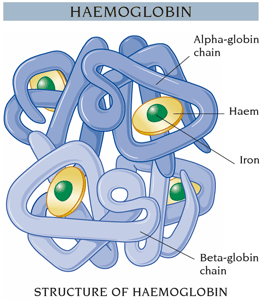 Initially there may be no symptoms.
Signs of pronounced anemia include:
Tiredness and weakness.
Paleness, especially in the hands and lining of the lower eyelids.
Less common signs include:
Tongue inflammation.
Breathlessness.
Rapid heartbeat.
Appetite loss.
Abdominal discomfort.
Cravings for ice, paint or dirt.
Susceptibility to infection.
Causes
Decreased absorption of iron or increased need for iron. Causes in adolescents and adults:
Rapid growth spurts.
Heavy menstrual bleeding.
Pregnancy.
Malabsorption.
Gastrointestinal disease with bleeding, including cancer.
Risk increases with
Poor nutrition.
Age over 60.
Recent illness, such as an ulcer, diverticulitis, colitis, hemorrhoids or gastrointestinal tumors.
Preventive measures
Maintain an adequate iron intake through a well-balanced diet or iron supplements.
Correction of gynecologic or other problems causing excess blood loss.
Expected outcomes
Usually curable with iron supplements if the underlying cause can be identified and cured.
Possible complications
Failure to diagnose a bleeding malignancy.
Angina pectoris (pain or pressure beneath the breastbone caused by inadequate blood supply to the heart) or congestive heart failure (pumping action of the heart is insufficient) may develop as a result of marked iron deficiency.
Iron deficiency anemia treatment
General measures
The most important part of treatment for iron-deficiency anemia is to correct the underlying cause. Iron deficiency can be treated well with iron supplements.
Avoid risk of infections.
Medications
Iron supplements:
Take iron on an empty stomach (at least 1/2 hour before meals) for best absorption. If it upsets your stomach, you may take it with a small amount of food (except milk).
If you take other medications, wait at least 2 hours after taking iron before taking them. Antacids and tetracyclines especially interfere with iron absorption.
Iron supplements may cause black bowel movements, diarrhea or constipation.
Continue iron supplements until 2 to 3 months after blood tests return to normal.
Too much iron is dangerous. A bottle of iron tablets can poison a child. Keep iron supplements out of the reach of children.
Activity
No restrictions. You may need to pace activities until symptoms of fatigue are gone.
Diet
Adults should limit milk to 1 pint a day. It interferes with iron absorption.
Eat iron-containing foods, including meat, beans and leafy green vegetables.
Increase dietary fiber to prevent constipation.
Notify your physician if
You or a family member has symptoms of anemia.
Nausea, vomiting, fever, stomach pain, severe diarrhea or constipation occur during treatment.
Last updated 14 June 2015