Pharmacy
Quantity
Unit Price
Total Cost
Payment methods
Description Amoxicillin and clavulanate belong to the class of drugs known as penicillin-type antibiotics, and are approved in a wide variety of bacterial infections. This drug combination treats bacteria that are resistant to certain types of drugs known as beta-lactam antibiotics. Amoxicillin works by making the cell wall of bacteria leaky; it also kills bacteria. Clavulanate protects amoxicillin from being destroyed by certain bacteria. Therefore, this drug combination kills more kinds of bacteria and is generally used in more difficult bacterial infections.

Amoxicillin and clavulanate potassium are considered to be an alternative oral treatment in mild to moderately severe nocardiosis. Additionally, this drug combination may be used after IV therapy is given. The efficacy of generic Augmentin in nocardiosis has been documented in various case studies of affected people.
Original uses (on-label)
Infections of the lower respiratory tract, ear, sinuses, skin and soft tissues, urinary tract caused by susceptible organisms; in combination with
ciprofloxacin
for treatment of low-risk febrile neutropenia.
Newly discovered uses (off-label)
Diverticulitis, nocardiosis, peritonsillar abscess, tonsillectomy,
tonsillitis
.
Potential side effects Nausea or vomiting, mild diarrhea, stomach pain, headache, oral or vaginal candida infection. Skin rash or itching, sore throat, anaphylaxis (fast breathing, shortness of breath and low blood pressure), antibiotic associated diarrhea, seizures.
Cautions
Before you order Augmentin, notify your doctor if you have an allergy to penicillins or cephalosporin antibiotics.
Dose and/or frequency of administration should be adjusted if you have kidney impairment.
Prolonged use of antibiotics may result in super-infection, resistance.
Do not use if you have a history of chole-static jaundice or hepatic dysfunction with this drug.
A high percentage of patients with infectious mononucleosis have developed a rash during therapy.
The incidence of diarrhea is higher with this drug than with amoxicillin alone.
Due to differing content of clavulanic acid, not all formulations are interchangeable.
Some products contain phenylalanine.
Drug interactions Atenolol, chloramphenicol, warfarin, macrolide antibiotics, methotrexate, tetracyclines. This drug can decrease the effectiveness of oral contraceptives. If these medications are used together, use a back-up method of contraception.
Food interactions Unknown
Herbal interactions Khat
Pregnancy and breast-feeding cautions Buy Augmentin online after reading about precautions. FDA Pregnancy Risk Category B. Amoxicillin is excreted into breast milk in low concentrations and is compatible. There is no human data pertaining to clavulanate and breast milk. Consult your doctor.
Special information If you buying Augmentin for the first time, you need to know that extended-release formulations should be taken with food. Two 250 mg tablets are not equivalent to a 500 mg tablet and two 500 mg tablets are not equivalent to a 1000 mg tablet in regards to amoxicillin. Some products contain phenylalanine.
Buy Augmentin online
Where can I buy Augmentin without prescription?
Co-amoxiclav is a prescription drug that comes in 375 mg, 625 mg, 1000 mg tablets. It is available on prescription only as tablets for oral use, but the online pharmacy, will sell Co-amoxiclav without prescription. You may be able to order Augmentin from them online and save the local pharmacy markup.

Co-amoxiclav and Tonsillitis/Peritonsillar Abscess A number of studies have evaluated amoxicillin and clavulanate for tonsillitis. In a study in Poland, the efficacy and safety of this medication were compared with another antibiotic drug, cefaclor. In this study, 100 children were treated with either co-amoxiclav or cefaclor. This study showed that both antibiotic drugs provided nearly 98% efficacy; however, this drug was associated with more tonsillitis relapses and recurrences compared with cefaclor.

A study conducted in Greece found that five days of co-amoxiclav and clarithromycin (an antibiotic drug) were effective compared with penicillin 10-day treatment. However, this medication and penicillin were more effective against bacteria compared with clarithromycin, so researchers concluded that clarithromycin regimens should not be used to treat streptococcal tonsillitis.

Co-amoxiclav for Tonsillectomy A trial in Ireland examined the effects of co-amoxiclav after tonsillectomy in children. Researchers noted that the decision to prescribe antibiotics post-tonsillectomy still remains controversial, although there is evidence of bacterial infiltration and there maybe a need for drugs after this procedure. Two groups of children were treated: group A received amoxicillin and clavulanic acid for one-week post tonsillectomy; group B did not receive treatment. There were fewer complications in those children receiving postoperative antibiotics compared with those who did not based on pain drug used, time to normal eating, and pain scales.

They concluded that treating children with co-amoxiclav that have undergone tonsillectomy significantly reduces postoperative complications.
What is Amoxicillin/Clavulanate? Amoxicillin inhibits the production of the bacterial cell wall. Clavulanic acid helps amoxicillin expand its spectrum of activity.
What is Augmentin XR? Augmentin XR contains the same antibiotic as Augmentin, but in a form that is released over time. The extended release of the medication helps kill some resistant bacteria that otherwise might continue to cause infection. Because both drug contain different proportions of clavulanate, which helps counteract resistance of the bacteria to antibiotics, it is not possible for your doctor to simply increase the recommended dose of this medication to achieve the same effect.
Brands & Classes Brand name
Augmentin (ES-600, XR)
---
Generic name
Amoxicillin-Clavulanate
---
Chemical class
Penicillin derivative, aminopenicillin; beta-lactamase inhibitor (clavulanate)
---
Therapeutic class
Antibiotic (penicillin)

Avail forms Amoxicillin/clavulanic acid tablets — Oral 375 mg (250/125 mg), 625 mg (500/125 mg), 1000 mg (875/125 mg)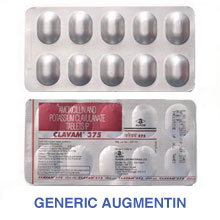 Dosage ADULT
PO 250-500 mg (amoxicillin) q8h depending on severity of infection, 875 mg bid, or 2000 mg bid (XR)
---
CHILD 3 mo - 12 yr
PO 20-40 mg/kg/day (amoxicillin) in divided doses q8h; use chewable tablets under 40 kg for correct clavulanate dose; PO 90 mg/kg/d divided q12h (ES-600 suspension).