Pharmacy
Quantity
Unit Price
Total Cost
Payment methods
Description Danazol is typically used for a variety of medical problems such as endometriosis, breast cysts, and abnormal swelling of the body tissues. Generic danocrine may also be used to treat gynecomastia since one of the more common side effects associated with its use is decreased breast size. Other side effects include flushing or redness of skin, mood or mental changes, and nervousness.
Original uses (on-label) Endometriosis, fibrocystic breast disease, and hereditary angioedema (recurrent allergic episodes which involve swelling of the skin, upper respiratory tract, and gastrointestinal tract).
Newly discovered uses (off-label) Also, patients can order danocrine online to treat autoimmune hemolytic anemia, dermatitis (chronic actinic), dysmenorrhea, gynecomastia, mastalgia, menorrhagia, menstrual migraine, premenstrual syndrome (PMS), therapy-resistant idiopathic thrombocytopenic purpura.
Potential side effects Acne, mild hair growth, hoarseness, weight gain, menstruation irregularities, flushing, sweating, liver dysfunction, vaginal dryness and irritation, emotional instability, reduction in breast size, changes in sperm count and motility.
Cautions
Not for use if you have undiagnosed abnormal genital bleeding, reduced liver, kidney, or heart function.
Not for use in pregnancy or during breast-feeding. Pregnancy must be ruled out before starting this medication.
Clot formation and life threatening of fatal stroke may occur with use of this medication.
Use of this medication may result in serious liver events or serious high blood pressure.
Before buying Danazol for fibrocystic disease treatment, breast cancer should be ruled out.
Use may increase the risk of certain cardiac disease, check with your doctor.
Androgenic effects (masculinization) may not be reversible.
Drug interactions Tegretol, cyclosporine, tacrolimus, warfarin, statin drugs such as lovastatin, pravastatin, anti-diabetic drugs. Danazol may lessen the action of hormonal contraceptives (birth control); it is recommended that you use other, non-hormonal contraception during therapy.
Food interactions Take this drug on an empty stomach. Avoid high-fat meals unless instructed by doctor.
Herbal interactions Unknown
Pregnancy and breast-feeding cautions FDA Pregnancy Risk Category X. Do not use in pregnancy or while breast-feeding.
Special information If you're planning to order Danazol, please remember that this drug has a black box warning regarding the risks of pregnancy, blood clots, long term therapy effects and high blood pressure related to increased pressure in the brain (benign intracranial hypertension). Pregnancy must be excluded as a possibility prior to initiation of therapy. During therapy a nonhormonal contraceptive method should be used. Report any signs and symptoms of intracranial hypertension to your doctor (such as headache, nausea, vomiting, vision changes.)
Buy Danazol online
Where can I buy Danazol without prescription?
Danazol is a prescription drug that comes in 50 mg, 100 mg, 200 mg capsules. It is available on prescription only as capsules for oral use, but the online pharmacy, will sell Danocrine without prescription. You may be able to order Danazol from them online and save the local pharmacy markup.

Danazol therapy in gynaecomastia In a Korean review of medical records, the efficacy of danazol was compared with another drug, tamoxifen. In this analysis, researchers reviewed 68 men with gynecomastia. Twenty-three patients were treated with tamoxifen and 20 were treated with Danocrine. Complete resolution of gynecomastia was noted in 18 patients (78.2%) treated with tamoxifen and eight patients (40%) treated with danocrine. In the tamoxifen group, five patients experienced gynecomastia recurrence. Researchers noted that although tamoxifen was more effective in reducing gynecomastia, it also resulted in a higher relapse rate.

British researchers at the Princess of Wales Royal Air Force Hospital examined the efficacy of danocrine for gynecomastia in a comparison with placebo. In this study of 52 men, Danocrine reduced breast tenderness significantly more than placebo and was associated with a significant improvement in the degree of gynecomastia and breast size. A notable side effect with danazol treatment was weight gain. Researchers concluded that this drug provided effective control of gynecomastia and may eliminate the need for surgical breast reduction.

Danazol in the treatment of menorrhagia Danazol treatment has consistently been effective in reducing menstrual blood loss. In some studies, reduction in blood loss is as high as 80% when compared to pretreatment blood loss. Following Danocrine therapy 20% of patients report amenorrhea and 70% report oligomenorrhea (infrequent or light menstruation). Approximately 50% of the patients report no side effects with danazol, while 20% reported minor but acceptable side effects. The most common complaint is weight gain, an increase of two to six pounds in 60% of patients.

Danocrine appears to be effective in treating for heavy menstrual bleeding compared to other medical treatments, though it is uncertain whether women will want to use it because of its frequent side effects.
What is Danazol? This drug inhibits the release of hormones that are a part of the ovulation cycle. The decrease in the levels of these hormones results in a breakdown of endometrial tissue and also decreases the growth of abnormal breast tissue.
Brands & Classes Brand name
Danocrine, Gynazol
---
Generic name
Danazol
---
Chemical class
Androgen; ethisterone derivative
---
Therapeutic class
Hormone (androgen)

Avail forms Capsules — 50 mg, 100 mg, 200 mg.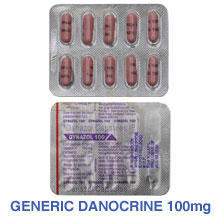 Dosage ADULT
Endometriosis: PO initially 400 mg bid to achieve rapid response and amenorrhea; decrease to dose sufficient to maintain amenorrhea (100-200 mg bid) for 3-9 mo.

---
Fibrocystic breast disease: PO 100-400 mg/day in 2 divided doses.

---
Hereditary angioedema: PO initially 200 mg bid-tid; decrease dose by 50% or less at 1-3 mo intervals to lowest effective dose; if attack occurs, increase dose by up to 200 mg/day