Pharmacy
Quantity
Unit Price
Total Cost
Payment methods
Description Paroxetine belongs to a class of drugs known as selective serotonin reuptake inhibitor (SSRI) antidepressants and is used to treat mental depression, obsessive-compulsive disorder (OCD), panic disorder, generalized anxiety disorder (GAD), social anxiety disorder (also known as social phobia), premenstrual dysphoric disorder (PMDD), and post-traumatic stress disorder (PTSD). SSRI-type drugs, such as it, may work by increasing the activity of the chemical serotonin in the brain. Side effects associated with the use of paroxetine include acid or sour stomach, belching, decreased appetite, decreased sexual desire, gas, heartburn, nervousness, pain or tenderness around the eyes and cheekbones, and sleepiness, among others.
Original uses (on-label)
Depression,
panic disorders
with or without agoraphobia, obsessive-compulsive disorder, social anxiety disorder,
generalized anxiety disorder
, post-traumatic stress disorder (PTSD), premenstrual mood disorders.
Newly discovered uses (off-label)
Attention deficit/hyperactivity disorder
(ADHD), alcoholism (cravings and dependence), Alzheimer's disease, chronic fatigue syndrome, diabetic neuropathy, fibromyalgia,
menopausal symptoms
, nocturnal enuresis, premature ejaculation, pruritus, stuttering, vasovagal syncope.
Potential side effects Increased sweating, headache, somnolence, dizziness, insomnia, nausea, dry mouth, constipation, diarrhea, ejaculatory disturbances, muscle weakness, sudden drop in blood pressure upon standing from a sitting or lying position, nervousness, anxiety, yawning, abnormal dreams, rash, decreased libido, flatulence, vomiting, upset stomach, urinary frequency, impotence, tremor, muscle aches and pain, low sodium levels.
Cautions
Use may be associated with the development of suicidal thinking and behavior (see special information section).
Do not use if you have been taking an MAO inhibitor (phenelzine, tranylcypromine, isocarboxazid) within the past 14 days. When used with MAO-Is fever, high blood pressure, increased heart rate, confusion, seizures, and deaths have been reported.
Gradually decrease in dosage upon discontinuation of paroxetine therapy.
If you want to buy paroxetine, you need to notify your doctor if you have a history of mania, seizures, or alcoholism.
Use caution if you have liver dysfunction, or kidney insufficiency, or in elderly patients.
Concurrent use of aspirin or other nonsteroidal anti-inflammatory drugs (NSAIDs) may increase the risk of bleeding.
Drug interactions
Avoid combination
Furazolidone: Increased risk of serotonin syndrome.
MAOI's (isocarboxazid, phenelzine, tranylcypromine): Increased CNS serotonergic effects have been associated with severe or fatal reactions with this combination.
Selegiline: Sporadic cases of mania and hypertension.
Thioridazine: Increased plasma thioridazine concentrations; increased risk of ventricular arrhythmias.
Use only under specific circumstances
Dexfenfluramine, Fenfluramine: Duplicate effects on inhibition of serotonin reuptake; inhibition of dexfenfluramine metabolism (CYP2D6) exaggerates effect; both mechanisms increase risk of serotonin syndrome.
Tryptophan: Additive serotonergic effects.
Minimize risk
Alpha-blockers (metroprolol, propranolol, sotalol): Inhibition of metabolism (CYP2D6) leads to increased plasma concentrations of selective alpha-blockers and potential cardiac toxicity; atenolol may be safer choice.
Cimetidine: Increased plasma paroxetine concentrations.
Cyproheptadine: Serotonin antagonist may partially reverse antidepressant and other effects.
Dextromethorphan: Inhibition of dextromethorphan's metabolism (CYP2D6) by paxil and additive serotonergic effects.
Diuretics, loop (bumetanide, furosemide, torsemide): Possible additive hyponatremia; two fatal case reports with furosemide and Paxil.
Haloperidol: Inhibition of haloperidol's metabolism (CYP2D6) may increase risks of extrapyramidal symptoms.
Lithium: Neurotoxicity (tremor, confusion, ataxia, dizziness, dysarthria, and absence seizures) reported in patients receiving this combination; mechanism unknown.
Phenobarbital, Phenytoin: Decreased plasma paxil concentrations.
Sumatriptan (and other "triptans"): Increased incidence of adverse effects, including serotonin syndrome.
Theophylline: Elevated theophylline levels have been reported.
Tramadol: Increased risk of serotonin syndrome.
Tricyclic antidepressants (clomipramine, desipramine, doxepin, imipramine, nortriptyline, trazodone): Marked increases in tricyclic antidepressant levels due to inhibition of metabolism (CYP2D6).
Warfarin: Increased risk of bleeding.
Food interactions Alcohol.
Herbal interactions Valerian, St. John's wort, SAMe, kava kava.
Pregnancy and breast-feeding cautions FDA Pregnancy Risk Category D. Excreted in breast milk. Not recommended during breast-feeding.
Buy Paxil online
Paroxetine antidepressant is a prescription drug that comes in 10 mg, 20 mg, 30 mg, 40 mg tablets. It is available on prescription only as tablets for oral use, but the online pharmacy, will sell Paroxetine without prescription. You may be able to order Paxil from them online and save the local pharmacy markup.

Special information There are three patient reports documenting the use of this drug for stuttering. Stuttering symptoms were characterized by repetitions of words/phrases and sounds/syllables in all sentence positions. After a few days of paroxetine treatment, improvement was seen. Some patients completely stopped stuttering after one month. No adverse drug reactions were reported. Paxil may be helpful in patients who stutter and who have depression or other mood disorders.
What is Paxil? This drug inhibits the reuptake of serotonin at the neuron, increasing the levels of serotonin in the body and in the brain.
Brands & Classes Brand name
Paxil
---
Generic name
Paroxetine
---
Chemical class
Phenylpiperidine derivative
---
Therapeutic class
Antidepressant (selective serotonin reuptake inhibitor)

Avail forms Tablets - Oral 10 mg, 20 mg, 30 mg, 40 mg.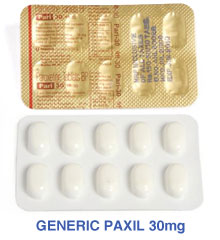 Dosage ADULT
Depression: PO 20 mg qd in am; after 4 wk if no clinical improvement is noted, dose may be increased by 10 mg/day qwk to desired response, not to exceed 50 mg/day.
---
Generalized anxiety disorder: PO 20 mg qd, increase by 10 mg/day q wk prn; usual dose 20-50 mg/day.
---
Obsessive-compulsive disorder: PO 20 mg qd, increase in 1 wk increments by 10 mg/day; usual dose requirement 40 mg/day, maximum 60 mg/day.
---
Panic disorder: PO 10 mg qd, increase by 10 mg/day qwk prn; max 60 mg/day.
---
Posttraumatic stress disorder: PO 20 mg qd, increase by 10 mg/day q wk prn; usual dose 20-50 mg/day.
---
Social anxiety disorder: PO 20 mg qd; max 60 mg/day.
---
Elderly, severe renal or hepatic impairment: PO 10 mg qd initially, increase by 10 mg/day q wk as indicated; Doses should not exceed 40 mg/day.