Description
Tadalafil is used to treat impotence or erectile dysfunction.
Sildenafil
,
vardenafil
, and tadalafil are a new class of drugs that have been developed for treatment of erectile dysfunction in patients.
According to researchers, a growing number of studies in recent years suggest that cialis may be used for treatment of pulmonary hypertension. Investigators believe that future studies of tadalafil could have an enormous impact in treating this disorder. They note that this drug has the potential for significant drug interactions, and you should not use it if you are maintained on nitrates.
Mechanism of action Increases cGMP in the corpus cavernosum, causing smooth muscle relaxation and inflow of blood, facilitating penile erection.
Potential side effects Headache, stomach upset, diarrhea, nasal congestion, abnormal vision, flushing, dizziness, rash, urinary tract infection.
Cautions
Seek medical attention if prolonged erection (greater than four hours) occurs.
There is a potential risk of a cardiac event associated with sexual activity in some patients. This drug is not for use in such patients. Discuss these risks with your doctor prior to initiation of therapy.
May require lower doses in reduced kidney or liver function.
Inform your doctor if you have an anatomical deformation of the penis or conditions that may put you at an increased risk for priapism (prolonged, painful erections greater than six hours), including but not limited to sickle cell anemia, multiple myeloma, and leukemia.
Do not use nitrates in any form. See the following website for a list of such drugs. Check with your pharmacist or doctor before starting a new medication, herbal product or nonprescription drug while taking this drug.
If you're buying cialis online for the first time, you need to know that use this drug with other erectile dysfunction treatments is not recommended.
Drug interactions Nitrates (see cautions), alpha-blockers (such as doxazosin, terazosin, etc.), antacids, bendroflumethiazide, enalapril, metoprolol, heparin, phenytoin, carbamazepine, phenobarbital, rifampin, antihypertensives, amlodipine, beta-blockers (such as propranolol, etc.), simetidine, diuretics, ketoconazole, itraconazole, erythromycin, protease inhibitors.
Food interactions Grapefruit juice. Avoid substantial alcohol intake. May be taken with or without food.
Herbal interactions St. John's wort.
Pregnancy and breast-feeding cautions FDA Pregnancy Risk Category B. Not for use in women; not recommended during breast-feeding.
Buy Cialis online
Where can I buy Cialis without prescription?
Tadalafil is a prescription drug that comes in 5 mg, 10 mg, 20 mg tablets. It is available on prescription only as tablets for oral use, but the online pharmacy, will sell Tadalafil without prescription. You may be able to order Cialis from them online and save the local pharmacy markup.

Special information Before you buy tadalafil online, please remember, that this medication is to be taken by mouth one hour prior to sexual activity. Do not take with an alpha-blocker (may result in significant low blood pressure). This drug does not protect against sexually transmitted diseases. Do not take more than once daily.

In 2005, the FDA reported a safety alert that described changes in the product labeling for all drugs in this class. Specifically, the changes were based on a small number of post-marketing reports of sudden vision loss, attributed to NAION (non arteritis ischemic optic neuropathy), a condition where blood flow is blocked to the optic nerve. The FDA advises patients to stop taking these medicines, and call a doctor or healthcare provider right away if they experience sudden or decreased vision loss in one or both eyes.
What is Cialis? This drug causes smooth muscle relaxation and flow of blood to the corpus cavernosum (erectile tissue of the penis).
Brands & Classes Brand name
Cialis
---
Generic name
Tadalafil
---
Chemical class
CGMP specific phosphodiesterase inhibitor
---
Therapeutic class
Anti-impotence agent

Avail forms Tablets - Oral 5 mg, 10 mg, 20 mg.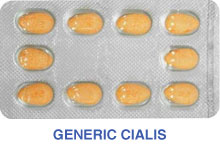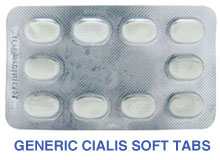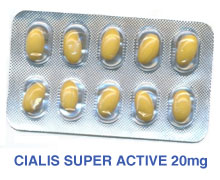 Dosage ADULT
Erectile dysfunction: PO starting dose 10 mg prior to sexual activity, effects may last 36 hr, dose range 5-20 mg, max recommended dosing frequency is qd.
---
Renal impairment: CRCL 31-50 ml/min, reduce starting dose to 5 mg, max 10 mg in a 48 hr period; CRCL <30 ml/min, max dose 5 mg.
---
Hepatic impairment: Child-Pugh Class A or B, 10 mg qd max; Class C, not recommended.